Teen literature is often rife with adventure and a spirit of romance. Most texts that target teenagers teem with narratives that recount escapades, breathless moments, investigative pursuits and encounters with the unknown world amongst other aspects. This is best captured through the lenses of Mike Klingenberg, a fourteen year old boy, who clutches at a lifetime opportunity to make sure that his life will never be the same again.
Mike and his classmate, Andrej Tschichatschow, are the typical boring classmates whom no one wants to associate with. It is even worse for Mike who thinks that he writes great essays, he can do the high jump better than any other boy in his class and better still he can draw great images. At least, Tschick is the odd one out because he is perpetually drunk and he doesn't care about anyone; even when the teachers make fun of him he is less interested.
However, the lives of the two young boys inevitably change when they are denied invites to Tatiana's birthday party. It is a big blow to Mike who has a secret crush on her; he has even drawn a great Beyoncé image for her as a gift. Tschick manages to drag Mike for a road trip on a stolen car after they have dropped the drawing at Tatiana's party rendezvous.
Theirs is a road trip like no other. Tschick is just learning how to wire cars and has not mastered the driving skill. Although Mike has been instructed by his father and left alone at home because his mother has made the umpteenth visit to the rehab centre, he jumps onto the idea and begins to visualise a world of infinite possibilities.
It is a journey that begins from Mike's home and ends exactly there. Although the two of them are clueless of where to go, they decide to head towards Wallachia – a destination that is almost fictitious and non-existent. It is a trip that comingles with their encounters with dangerous people, reckless driving, thrilling moments of being free to roam the world and the fear and anxiety of the unknown when the two of them get lost in mountains and forested areas.
Why we Took the Car
is an exciting story interspersed with moments of suspense. At one moment we are worried when they run out of gas but a teenage girl, Isa, whom they bump into at a garbage site helps them siphon petrol. Thereafter, their first accident results from a reckless desire to outmanoeuvre a police car. Our breath is held when the car rolls almost a dozen times before it lands on its roof and the wheels are left spinning in the air. However, the story must uphold the spirit of heroism. Mike and Tschick survive with minor bruises.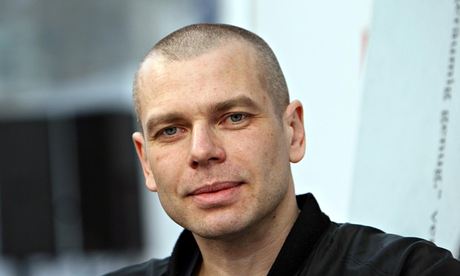 The late Wolfgang Herrndof (shot himself in Aug. 2013 after being diagnosed with cancer in 2010)
Read more about the author here:
http://www.goethe.de/kue/lit/prj/lit/arc/b11/004/enindex.htm
But, their heroism is short-lived because a few pages later Mike crushes the car into a trailer ferrying pigs. Although Tschick is taken to juvenile court and Mike let loose, the boys have learnt their lessons and acquired new statuses and identities. This is best affirmed when their teacher, Wagenbach is proofed wrong about their road trip by the arrival of policemen to the school.
The narrative adopts simple language and uses humour to mock adults. This resonates well with teenagers because they dislike adults for meddling in their life affairs. Memorability is enhanced through descriptions like that of the hippo woman, Isa's romantic moment with Mike, the countryside etc. It is a novel that teenagers will definitely love to read.